Testimonials
Dear all,
Thank you for allowing us to venerate the Relic of St Edmond Campion at Our Lady of Lourdes and St. Michael Parish, Uxbridge, but mostly thank you for such a lovely Mass at Pield Heath school. The children enjoyed it, and i certainly enjoyed it. I've never seen anything like it before, it was Pure Magic.
Eric M Joseph, Provincial Grand Knight of St Columba
October 2021
Dear Eryl,
Thank you for so carefully organizing such a very beautiful Service for the staff to mark the beginning of the New School Term. A word of appreciation too, for your thoughtfulness in extending an invitation via Zoom to the School Governors.
I would like, if I may, like to choose one item from the Service out of a possible many. Your Guest Speaker made a number of very helpful points:
1) Gratitude- one of the very positive" spin-offs" of the last six months of Covid 19 and of Lock down was a heightened sense of Gratitude which we sincerely hope can continue in the Future.
2) Contemplation- David's reference to a quote from a Monk called Thomas Merton and relating it to another very positive "spin-off" from the time of lock down, people generally were more attentive and listening more, listening to a Deeper Reality
3) Increased Awareness of Nature- walks in the Countryside, Listening to Birdsong etc.
4) "New" Globalization- We are discovering that what happened to some of us affects all of us the principle that what is most personal is most universal.
It is very good that Fr Nicholas will be able to celebrate Mass next Wednesday for God's Blessing on the School Year.
Sincerely,
Sr Anne Kieran
Foundation Governor, 1st September 2020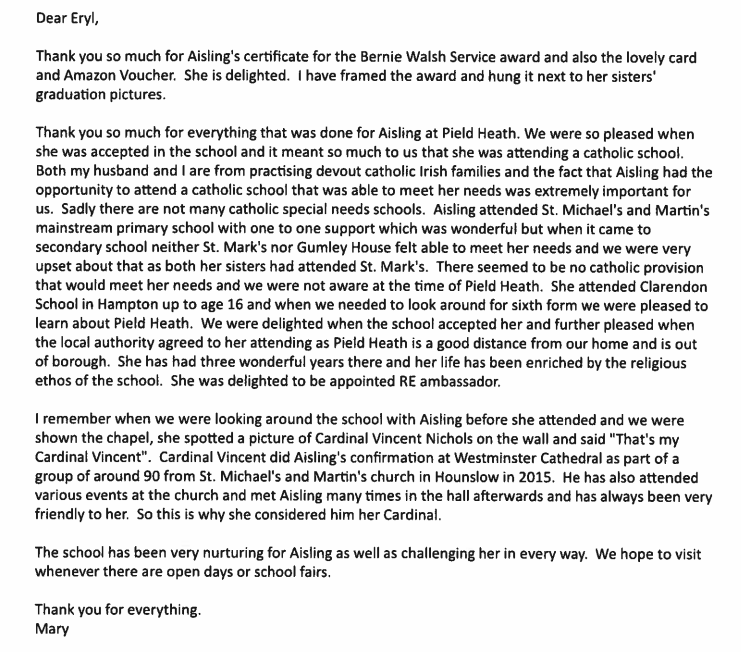 (Parent, July 2020)